Networking, Professional Development, Fitness, and Friendships
By Monica Rangel, University of Wisconsin-Madison
IACAC is an amazing conference! This was my second year attending the event. Last year I had such a good time I worried how this year would measure up.  My fears were quickly dissolved as the opportunities to network, make new friendships, and just have fun, were endless. Although based in Madison, Wisconsin, I'm still amazed at how easy it is to feel welcomed and comfortable at IACAC.
I'm originally a Texas girl who ended up in the Midwest with my family. I began working in admissions as soon as I arrived, and I've been recruiting in the Chicago area for the past four years. As you can imagine, there was a big learning curve in navigating Chicago traffic for the first time, trying to find the best parking spots at a high school for fairs or visits, and where to find a quick bite before rushing off to the next school. Although I've only attended the IACAC conference the last two years, I've been an IACAC member for four years. IACAC has been instrumental in helping me navigate the admissions world, not to mention Chicago's ins and outs. The organization has been pivotal in connecting me with other counselors whom I now count as friends; they have been so helpful in providing advice and knowledge professionally and personally.  
The sessions this year continued to challenge me to think of ways I can do more for my university and my students.  Although this usually entails adding new tasks and responsibilities, the sessions helped me to think about what is important and the changes I can help establish in my work. Specifically, the "Do You See What Eye See?" session and the "DREAMERS and the College Dream" session each shared information I found particularly valuable. I left both of these sessions asking myself "how can I add what I just learned" into what I do? I believe when we start asking ourselves questions like how and why we not only become better admissions counselors but better individuals. We tell our students knowledge is power, why should it be any different for us? I even found that when interacting with other colleagues, we are able to collectively come up with solutions to common challenges. Overall my favorite part of this year's conference was the Guiding the Way to Inclusion (GWI) threads. In addition to my freshman counselor role, I am also a multicultural recruiter for my office.  I found the GWI threads to be a great way for me to quickly check the program and find topics of interest. I found multiple sessions to be very informative.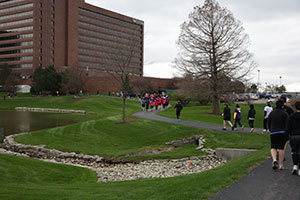 Additionally, I enjoyed participating in the Project Reach 5K. Even though I was the only person from my office at the conference, I experienced a real sense of camaraderie as I finished my first lap and crossed the finish line. Everyone's cheers and smiles helped me finish in a surprisingly good time, for not being 5K ready. That's the thing about IACAC, you have the opportunity to make friends at every event. Although I ran on my own this year, during my time at the conference I made friends with fellow admissions folks. We've now made plans to team up for next year's 5K. Watch out runners, team WIN-sconsin is coming for you!
I've come to the conclusion that IACAC is not just an organization or a conference; it's a family of colleagues. The reality is, as a regional, we see each other more often than we see people in our own offices. We work for different schools, yet we are all working towards the same goal; opportunity for our students. IACAC helps us grow through networking, professional development, fitness, and friendships.  For this I am grateful. Thank you IACAC!