Scholarship 2014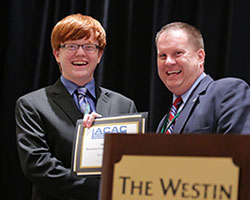 IACAC is pleased to offer five $1,000 scholarships ($500 each semester, non-renewable) to students who exhibit a commitment to learning and have demonstrated leadership skills and/or community service involvement.
Eligibility Criteria
The applicant must be a graduating senior from an IACAC member high school (where at least one counselor is an IACAC member) with a GPA of at least 3.0 on a 4.0 scale. To verify if your high school is an IACAC member, contact Linda Haffner at LHaffner@iacac.org or (800) 829-0176. He or she must enroll as a full-time college freshman at a post-secondary institution in the 2014-2015 school year (preferably at an IACAC member institution). The student must also demonstrate involvement in high school, the community, or service to others with motivation to achieve personal goals.
Selection Process
Applications will be reviewed by the IACAC Scholarship Committee
Academic credentials, resume, personal essay, and the counselor's recommendation will be evaluated
Application Procedure
Complete the application form
Submit an official transcript with GPA, rank (if available), ACT/SAT score, and school profile
Submit a resume demonstrating leadership, involvement in high school, the community, and/or service to others. Please include total number of service hours.
Submit a typed, double-spaced, two-page essay addressing the following topic items:

Describe a counselor, teacher, or experience that has had the greatest influence on your decision to attend college.
How has this individual or experience impacted your future goals?
How do plan on making a positive impact on your college community and beyond?

Submit a letter of recommendation from your high school counselor
Deadline
Applications must be postmarked by Friday, February 28, 2014
Awards
Recipients will be officially recognized at the IACAC Annual Conference on April 30, 2014
Names will be posted on the IACAC website shortly after April 30, 2014
Congratulations to the 2013 IACAC Scholarship recipients
Catherine Arevalo
Lyons Township High School
LaGrange, IL
Counselor: Michele Stupak
Joseph Halton
Belleville East High School
Belleville, IL
Counselor: Denise Douglas
Daniel Leahy
Downers Grove South HS
Downers Grove, IL
Counselor: Timothy Christy
Tiffani McCormick
O'Fallon High School
O'Fallon, IL
Counselor: Travis Hatton
Julia Xie
Northside College Prep HS
Chicago, IL
Counselor: Marina Medina
The IACAC Scholarship was established in November 2012 after approval from the Executive Board. In March 2013, the Executive Board voted to approve the awarding of 5, $1,000 scholarships to be awarded annually each year. IACAC is truly pleased to be able to give back to the students that members work with on a daily basis.