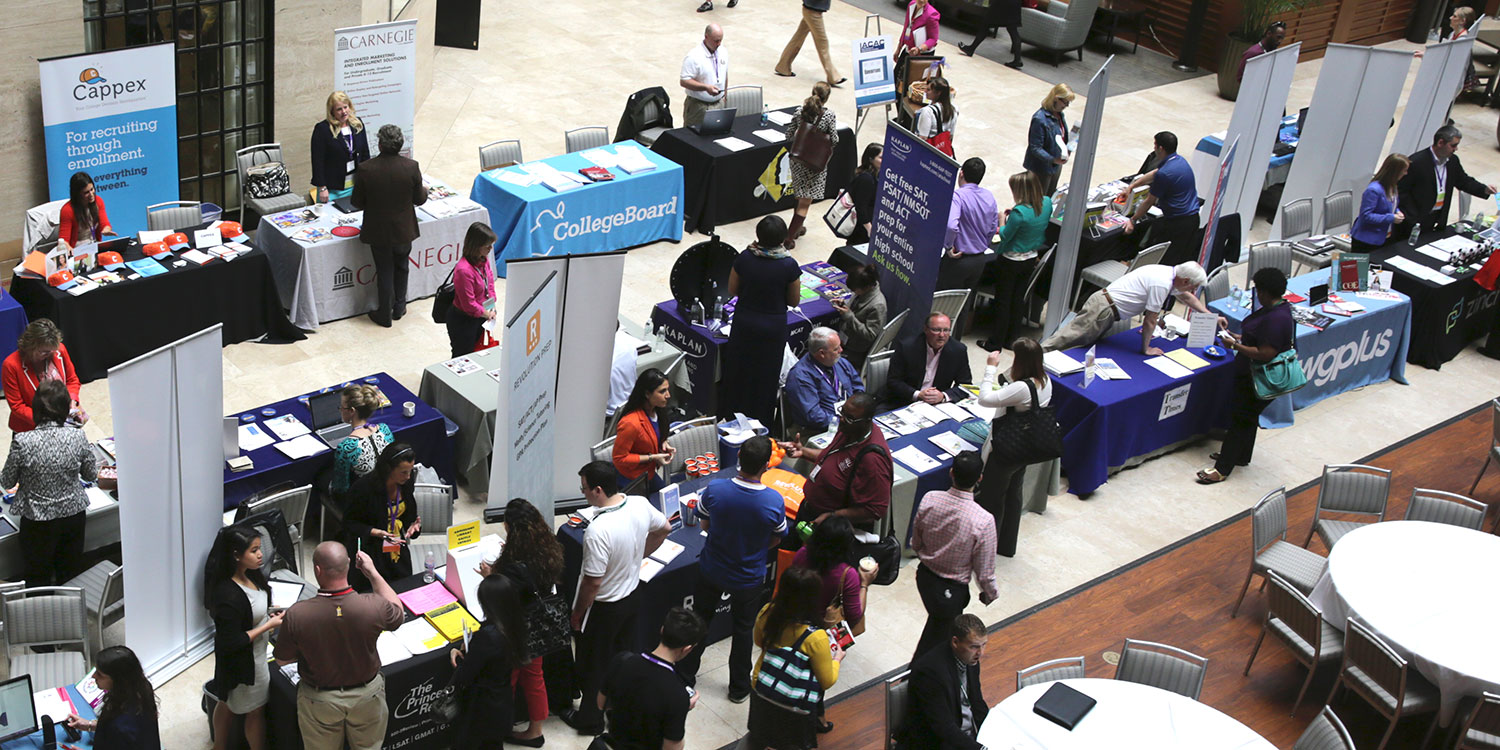 Exhibit at the IACAC Annual Conference
Thursday, April 28, 2022
7:30 am – 4:00 pm
with dedicated exhibitor time from 7:30-8:30 am and 1:45-2:15 pm
Registration
$575
through March 4, 2022
Late Registration
$625
March 4-April 1, 2022

Additional Representatives
If additional representatives from your company wish to join us for meals or Conference activities, you must register them. You may add one additional representative to your primary registration or add more representatives separately.  A single-day registration for Thursday is $115. Full Conference registration is $220 for all meals and activities.
3D Virtual Campus Tours by Designing Digitally, Inc.
Academic Approach
ACT, Inc.
Alloy Education
Applerouth Tutoring
Applicant Advantage, Inc.
BenchPrep
C2 Education
Cambridge Educational Services
Cappex
Career Cruising
Carnegie Communications
Campus Sonar
CBSS
College Board
CollegeWeekLive
Compass Education Group
Campus XR
Discover Student Loans
EF Gap Year
enrollmentFUEL
Hobsons
Illinois Student Assistance Commission
International Baccalaureate Organization
Kaplan Test Prep
Kelmscott Communications
Liberty Creative Solutions
Little i Apps, LLC
Magellan Collegiate Promotions
Midwestern Higher Education Compact
MyMajors
Next Step Education Group
NextTier Education
Noel-Levitz
NRCCUA
One-to-One Learning Services
Parchment
PrepTalk
Princeton Review
Resurrection Project
Revolution Prep
RightStudent
Sallie Mae
SALT – American Student Assistance
Scholarship America/Dollars for Scholars
Scholarships.com
SCOIR
Sourcebooks
TargetX
The Admissions Guy
The Princeton Review
Transfer Times
TuitionFit
TWG Plus
Wells Fargo Bank
ZeeMee
Zinch
Who is eligible to exhibit?
Pursuant to IACAC's fiscal policy, schools, colleges, and universities are prohibited from exhibiting. Exhibitors must be educationally-related and in accordance with the mission of IACAC. The approval to exhibit is not an endorsement by IACAC of the exhibitor, or the exhibitor's product or service. IACAC reserves the right to reject any exhibitor that is not appropriate to the professional mission of the Association.
Shipping
Please plan to have items arrive on or after April 25 as they cannot be stored before then. To ship items ahead, mail to:
Westin Chicago Northwest
IACAC
April 27-29, 2022
400 Park Blvd
Itasca, IL 60143