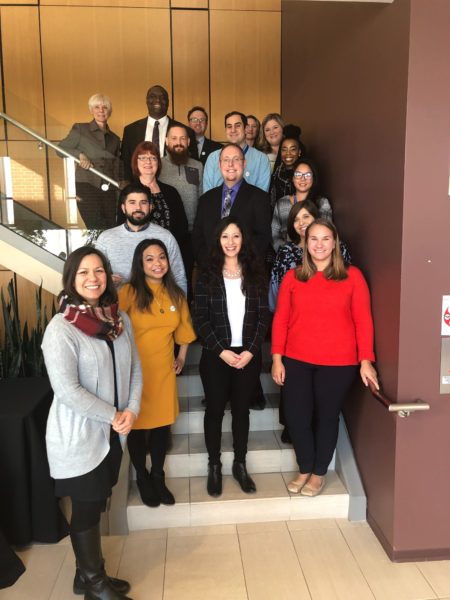 Moraine Valley Community College
Moraine Business and Conference Center
Friday, February 21, 2020
9:00 am – 3:00 pm

The Transfer Summit is a way for high school counselors, admission staff members at both community colleges and four-year institutions as well as academic advisors/transfer coordinators at community colleges to connect and talk about hot topics regarding transfer students. Presentations will include information regarding articulation agreements, special admissions programs, and information on how to best counsel a student about the transfer process.
Registration
8:15-9:00 am
Check-in and breakfast in the Lobby.
Session A
Participants can choose from the following sessions between 9:30-10:20 am:
A1: PICU Transfer Survey: Examining Student Preferences in Transfer Recruitment – Private Illinois Colleges and Universities (PICU) surveyed 5,792 students from 25 different PICU institutions that transferred in Fall 2018 or Spring 2019. Results highlight communication preferences, preferred resources, obstacles faced, deciding factors, and advice to transfer admission counselors. Hear in students own words what matters to them most and leave with supporting data to drive future initiatives at your institution.
A2: Transfer College Night – How can community colleges and high school counselors better support transfer-bound students? This presentation focuses on how high school counselors and admissions representatives collaborate to help students learn more about the transition from local community college to Illinois state universities. Come learn how you can improve or promote transferability starting at the high school level.
A2: "Good Luck With Your Art…": Framing Outcomes for Creative Students – We all know the stereotypes and myths surrounding creative industries – and Columbia College Chicago dispels them day in and day out. The goal of this session is to arm attendees with creative ways to talk about degree programs and outcomes after graduation.
Session B
Participants can choose from the following sessions between 10:30-11:20 am:
B1: National Transfer Student Week – National Transfer Student Week is the third week of October every year. October 19-23rd 2020. What are you doing as an institution to celebrate your transfer students? DePaul University, Office of Transfer Admission, has hosted events the last three years. Come to this session to collaborate and get ideas on what you can do at your school.
B2: Goodbye, Transfer Fairs? – Are transfer fairs on the decline in Illinois? What is the purpose of a college fair? This session will involve an examination of college fairs, re-imagining college visits, and looking at Oakton Community College as a case study.
B3: DACA: Now What? -This session will provide an update on the status of Deferred Action for Childhood Arrivals (DACA). In addition, we will address how an educator can be an ally for DACAmented and undocumented students in their institutions and support them on the path to finishing a college degree. We will share what other institutions have done for best practices. Recognizing that many attendees are likely to have specific questions, there will be time for Q and A.
B4: Being a "Guide on the Side" for First-Gen Transfer Students – This session will present an overview of North Central College's Cardinal First Transition program for first-gen transfer students in their first semester at North Central. The program offers one-on-one mentoring from first-gen student leaders who also transferred to NC and a direct connection to the resources, opportunities and information essential to help our transfer students thrive.
Lunch
Lunch will be served from 11:30 am-12:30 pm with a presentation from 11:45 am-12:15 pm.
Session C
Participants can choose from the following sessions between 12:40-1:30 pm:
C1: Implementing Multiple Measures: Best Practices for the Best Interest of Students – The Illinois community colleges and The Illinois Community College Board (ICCB) have been working on a common placement framework, which involves using multiple measures for students' placement into courses at the community college. Many community colleges around the state have either implemented or are getting ready to implement new placement policies. This session will serve as a round table to hear how community colleges are implementing new placement policies. This is meant to serve as an idea sharing and best practices session for statewide placement across the state. Audience members should come prepared with questions and ideas.
C2: Developing Partnerships Between 2 and 4 Year Institutions That Promote Success for First Generation Students – How to work collaboratively towards seamless transition across academic, social/emotional and career development needs such as: Visits, increased application assistance, financial access, onboarding/orientation, and transparency, increased support/mentoring academically and socially. How do 4 year institutions promote a sense of "belonging", communication, Graduate Support Coordinator from 2 year program and MOU.
C3: College Affordability and Transfer Trends for Illinois' Black, Latinx, and Rural Students – The Partnership for College Completion will share findings from its latest series of reports Priced Out: On Illinois' Disinvestment in Higher Education & What Can Be Done About It and lead an interactive discussion on the impact of college affordability on college enrollment, transfer, and completion rates for Black, Latinx, and Rural students and implications for state policy.
Registration
IACAC Members: $40
Non-Members: $50
Lunch is included. ISBE PD hours will be available.
Registration deadline: February 18, 2020
Unless the event is canceled, requests for registration refunds will need to be submitted no later than three weeks prior to the event.
Springhill Suites by Marriot/Burr Ridge
15 W 90 N Frontage Road (I-55 & County Line Road North)
Burr Ridge, IL 60527
(630) 323-7530
Negotiated rate is: $119 per night plus tax, if you do not receive that rate when booking, call Janet Polson, Travel Manager at Moraine Valley Community College, (708) 974-5514 or email your confirmation to her at polson@morainevalley.edu and she will get the rate adjusted.