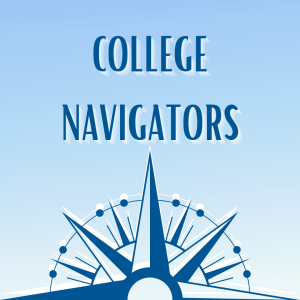 College Navigators
Tuesdays @ 5:30 pm
June 29-July 27
Once again this summer, the College Awareness and Preparation (CAP) Committee is proud to announce our College Navigators Online Program. College Navigators will offer selected rising high school seniors from underserved and first-generation backgrounds access to "College Navigators" along with a series of topic based webinars related to a variety of college readiness topics.
Each student participant will be placed into a "mentee pod" which will be led by two mentors who will lead students through a series of webinars and pod group meetings. We will meet once a week from June 29-July 27. As an incentive for participation, we will offer students who meet participation requirements the opportunity to be considered for an academic scholarship.
Participants will be required to participate on the days listed below. If students are unable to participate, they must notify their mentor to be excused. Sessions will be held every Tuesday from 5:30-7:00 pm from June 29-July 27. Students will be required to attend the dates outlined below, and will have an opportunity to meet with their mentors on a bi-weekly basis for additional resources.
We are very excited about this program, and we ask our IACAC community to please share this program widely with all your students, specifically any rising seniors. We can take into consideration rising juniors, if there is an interest. If you have any questions about the program, please reach out to the CAP committee at cap@iacac.org.
Program Schedule
6/29 5:30-6:30 pm
7/6 5:30-7:00 pm

Session A: Program Selection Process
Session B: Choosing your College

7/13 5:30-7:00 pm

Session A: The Application Process- Everything you need to know to prepare
Session B: Self-Advocacy in the College Search Process

7/20 5:30-7:00 pm
7/27 5:30-7:30 pm

Session A: Support Services on Campus
Session B-1: Parent Closing Session Q & A
Sesión B-2: Recursos para padres en Español
Graduation
Essay
Choose from any of the following prompts for your essay. There is no word count requirement, feel free to write as much as you need.
How have you changed since your first day in high school, and what types of changes do you anticipate in college?
Describe an individual who has in some ways had a significant impact or influence on you. How have they affected your educational and career goals?
How has COVID-19 affected your educational journey and what have you done to adapt to these changes?