Camp College 2015
Host Camp College 2015
The College Awareness & Preparation committee is seeking site proposals for Camp College 2015. We are excited to have a newly formalized process for post-secondary institutions that might be interested in hosting our students in July.
The deadline listed on this form is November 1, but we welcome early submissions if you would like to complete the process before other fall activity picks up.
Download the Camp College 2015 Proposal Form (PDF)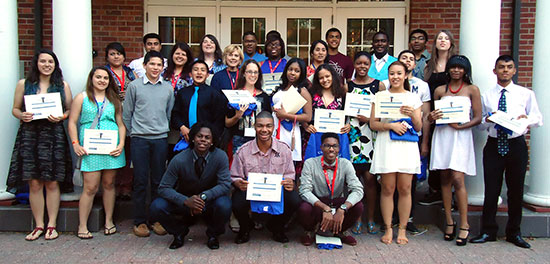 Camp College 2014
July 8-11, 2014
Augustana College
Knox College
Monmouth College
Western Illinois University
Through the support of the Illinois Association for College Admission Counseling (IACAC), Camp College is a free opportunity for rising seniors to learn about aspects of the college search and application process from college and high school counselors. Students will be able to have the experience of living on a college campus, while attending sessions on the college application process. Camp College will take place at 4 schools in Illinois: Augustana College, Knox College, Monmouth College, and Western Illinois University. Students will be provided food and lodging free of cost! 
Deadline extended to March 28
Online Application
Due by Friday, March 14th, 2014
Deadline extended until Friday, April 11
or, Download paper application
Nomination Form
You may nominate up to 3 students from your high school/agency.
Download Waiver Forms
Mail or email signed waivers for your application to be complete
Send Official or Unofficial Transcripts
April Ponte
Office of Undergraduate Admissions
901 West Illinois St.
Urbana, IL 61801
Sessions will include:
Did you know?:  Attend academic sessions to learn about your major of interest
Finding your "FIT":  How to research a colleges and what college works for you
The meaning behind the rankings
Traveling Abroad: Besides my passport, what do I need?
Preparation for the 3 C's (College Fair, Campus visit, Campus or Off- Campus Interview)
I am more than just my transcript:  Essay sessions I & II
Money Matters:  My financial aid plan for 4 years
College fair
Do tests matter?:  The ACT & SAT
Mock Admissions Committee
What should I expect when I get to College?
Being away from home:  Budgeting, Credit Card Safety, and Reputation management
Senior Year Calendar 
Campers will also be paired with a counselor-mentor whom they retain for the school year.
When will it take place?
Students are expected to arrive on Tuesday, July 8, 2014 (specific time TBA) and will depart in the afternoon of Friday, July 11, 2014. 
What does it cost?
Students will pay a $20 deposit that will be refunded at the program's conclusion. Because of the generous support of IACAC and other sponsors, the camp can be offered with no cost to the students.  
How will students get to the camp?
If possible, students should provide their own transportation to Camp College. Depending on the location of selected students as well as their transportation needs, Camp College may provide buses to pick up students in centralized locations and then bring them back to those locations on the final day of the program. Please indicate on the application the student's transportation options. If a student has a unique transportation issue, please indicate that on the application.
Who should apply?
This program is designed for students from non-traditional backgrounds who would benefit from exposure to this information. The selection committee will give additional consideration to students from rural areas, first-generation college students, and students from low-income households. Students should have a minimum cumulative grade point average of 2.5 on a 4.0 scale.
What is the application process?
When the application materials become available in mid-January, students can begin the 4-step process.
STEP 1
Students need to submit a Camp College application by Friday, March 14. You may submit the application online (preferred) or print and mail the application to the address below. The application will be available in mid-January and must be electronically sent or postmarked no later than March 14, 2014.  
STEP 2
Students must have a school counselor submit the Camp College Recommendation Form and their unofficial transcripts. Counselors may submit this form online or print and mail the form to the address below.
 Note to counselors: You may recommend up to 3 students from your school for Camp College.
STEP 3
Students must PRINT and mail/fax the 5 page waiver document and mail it to the address below. 
The deadline for all of the above 3 steps is Friday, March 14 28. 
STEP 4
The committee will select approximately forty students to participate in the program. Students will be notified of their selection by Friday, May 2, 2014. Selected students will be mailed and e-mailed a final permission form and must return the form signed by a parent and a $20 deposit by Friday, May 30, 2014, to reserve their spot. 
Where do I send the application AND waiver documents?
Scanned paper applications, scanned waiver documents, and questions concerning Camp College can be sent to iacaccampcollege@gmail.com
Paper applications and waiver documents can be sent via mail to:
April A. Ponte
Office of Undergraduate Admissions
901 West Illinois Street
Urbana, IL 61801